The 2019 RAM 1500 has been completely redesigned for the 2019 model year—with plenty of exciting upgrades, and the option of a 5.7-liter V8 rated at 395 horsepower and 410 lb.-ft. of torque. If you're a performance-minded driver, you may be interested in the guaranteed power increase that the 77-1578KP performance cold air kit provides.
Engineered specifically for 2019 Dodge 1500 and RAM 1500 5.7L V8 models, the K&N® 77-1578KP intake system offers an estimated power increase of 15.1-horsepower and 34.6 lb./ft. of torque*, exceptional engine protection, and improved engine sound on acceleration. Explore a new intake option from the industry leader in washable automotive airflow.
"After the install that went perfectly, thanks to great instructions and the video from the K&N web site, I am amazed at the results. Throttle response is amazing and I use less throttle to get moving. Also, my truck does not down shift anymore climbing hills with the cruise on." – Michael from Oklahoma [Part No. 77-3070KP]
WHY CHOOSE A K&N PERFORMANCE AIR INTAKE SYSTEM?
The 77-1578KP is designed to help provide a smooth, low-restriction path for airflow to the engine. Your engine needs oxygen to create power; the cylinders in your vehicle's engine need to have air to create the explosion that produces horsepower and torque. Allowing a higher volume of air into the cylinders allows the engine to burn fuel more efficiently during combustion—providing an increase in power.
"Easy to install, noticeable power increase." – Floyd from North Dakota [Part No. 77-2581KP]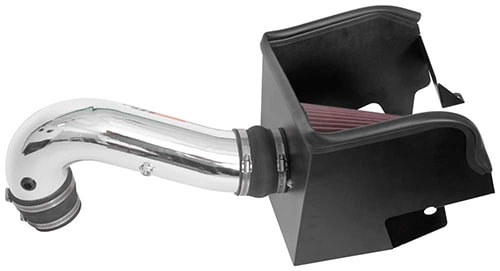 ALUMINUM INTAKE TUBE INCREASES AIRFLOW
The K&N® 77-1578KP air intake system is a free-flowing, mandrel-bent polished aluminum tube cold air intake system designed to replace the factory air filter and air intake components. The 77-1578KP also incorporates a steel heat shield, which helps protect the air filter and intake air from high temperatures within the engine bay.
"Easy to install, sounds and feels great when accelerating. Very happy with the results. Recommend this to anybody looking for a easy first upgrade for their vehicle." – Eric from Washington [Part No. 69-1210TS]
IMPROVE ENGINE SOUND
Factory intake systems often feature intake tubing with tight bends, baffles, and other obstacles that can slow airflow and muffle engine noise. K&N intake systems are designed to give your engine a more satisfying growl on acceleration, but return to quiet once at speed.
HIGH-FLOW AIR FILTER™ OFFERS EXCEPTIONAL PROTECTION
The High-Flow Air Filter™ included in the 77-1578KP intake kit is oversized with a conical shape, providing a greater surface area and allowing for a service interval of up to 100,000 miles between cleanings (under normal highway driving conditions). High-Flow Air Filters feature an oiled, layered design. When your filter does need to be cleaned, you can use the K&N Recharger® Kit (99-5000 or 99-5050) to quickly and easily restore your filter's performance. Each K&N intake (and filter!) is designed to last for the life of your vehicle.
INSTALLATION
The K&N 77-1578KP intake system is engineered to incorporate factory mounting points and the factory mass air sensor. Installation can typically be completed in 90 minutes or less, and requires only simple hand tools. Detailed instructions are included in your kit.
Engineered to fit:
2019 Dodge 1500 5.7L V8 Fuel Injection
All Models
2019 Ram 1500 5.7L V8 Fuel Injection
All Models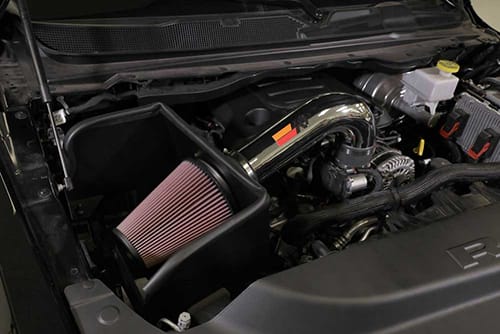 WARRANTY
Each intake system comes with a 10-Year/Million Mile Limited Warranty. Furthermore, using a K&N replacement air intake system will not void your factory warranty; in the U.S., manufacturers must provide evidence that an aftermarket part is the cause of a necessary repair in order to void or deny warranty coverage. The Consumer Products Warranty Act of 1975 (also known as the Magnuson-Moss Warranty Act) protects consumers' rights to their warranty coverage.
DYNAMOMETER RESULTS
K&N performance air intake systems come with a horsepower guarantee. During dynamometer testing, the 77-1578KP provided an estimated power increase of 15.1-horsepower and 34.6 lb./ft. of torque*. Follow this link to view the complete dynamometer chart.
"Easy install took roughly about 1 hour. Instructions are pretty easy to understand not a lot of tools needed for installation. Looks really good once installed everything fits just in place. Sound is amazing compared to stock air box. For me it's a must get filter no doubt about it." – Keevin from Indiana [Part No. 69-1019TS]
Click on the button below to purchase the 77-1578KP cold air intake system, or visit the vehicle search page to explore air intake system options for your vehicle. Join the millions of customers who trust K&N to help them boost performance and protection in their vehicles!
Legal in 49 states. Not legal for sale or use in California on any pollution controlled motor vehicle.
*Horsepower gains vary among products and applications, but each K&N performance air intake system is designed to increase airflow efficiency for specific vehicles and their engines. Each kit undergoes significant testing to help ensure that the filter and intake tube are engineered to deliver large increases in airflow and horsepower. Please visit individual product pages to view horsepower estimates for your specific vehicle.